Summary
For this paper, we have decided to study a special need social group in our community, the single mothers. In fact, nationwide, single motherhood is becoming a rising phenomenon. Of course, this is a negative phenomenon with disastrous consequences for society if we fail to address it correctly. Recent studies have reassessed the link between criminality and this social group.
Depression is another major problem facing our communities nowadays. This is especially true regarding single mothers. The latest studies show that there is significant evidence linking an increased risk of depression to women who are single moms and have gone through a difficult divorce period recently. Depression is an important indicator that the victim of the abuse may be susceptible to poor health and an increase in the use of alcohol and drugs. The effects may linger long after the individual has been removed from the abusive situation and can affect her life and parenting skills. A study reports "single moms, who have been divorced within 5 years … have the highest probability of being hit hard from changing economic conditions. Among them is to be found the highest rates of child abuse (Bartholomew et al, 2006, p. 8).
Also, child-abusing is one of the factors influencing these children to become deviant. Nurses as health care professionals are particularly situated to be able to help these single mothers before the situation becomes critical.
This study is focused on the community of single mothers in San Bernardino County, California. The primary focus is on those single moms that have been diagnosed with depression. Those should be the primary focus for nurses.
The selection of this category with this social group is done in order to identify the neediest for help. Depression surely is one step away from a total health disaster. We will begin by making a description. We will begin by assessing some basic demographic and economic characteristics. In the next part, we will discuss some more specific data related to social-cultural background, ethnicity and health history. We will also attach a genogram of the social group at the end of the paper.
Community description
Demographics
The group studied is composed of about 15,000 persons. 6500 of them are adult females, the single mothers. 8500 members are minors ranging from 5 years to 18 years old. 4500 of them are girls and 400 boys. The adults are between 20-50 years old. It should be noted that 60% of single mothers are between 30-50 years old.
We are thus dealing with approximately 6200 to 6400 families. Another common feature is that they have passed through the divorce procedure during the last five years. Most of them have only one child.
Economics
For 80% of these single moms the annual income does not pass $18,000. All of them do not have stable jobs but keep on going through temporal, seasonal, employment. It should be noted that most of the year these families have no ability to purchase health insurance coverage. Many of them accept to work for businesses without health benefits or health coverage. Their per capita health expenditure is quite low, less than $800 per year on average. The vast majority rely on Medicaid for their health issues. Homelessness is another problem this group faces. Though the majority manage to get a roof for their head, they are in constant peril of losing it. During last year, almost 10% of them were homeless at any period of the year.
Ethnic background
Another important aspect is their ethnic composition. They are not a homogeneous social group in terms of ethnic composition. From this can be deduced that they have different social-cultural backgrounds also. It is this social-cultural background that plays an important role in their health management. In San Bernardino County the majority of this group is composed of Latinos (of any nationality) with approximately 55% of them. The second-largest category is that of Afro-American ethnicity (around 25% of them) and after that comes the Asian ethnicity background category (composing around 12% of the group). The remaining 8% are a mix of white and other ethnic backgrounds.
Community analysis
Psychological and social-cultural considerations
Life as a single mother is quite difficult. Life is even more difficult as a child with a single parent. These mothers tend to pressure their children to become adults as soon as possible. The stress they have due to their difficult financial position creates tension in their inter-generational relationships. It should be noted that this group has an acute need for economic help. As mentioned in the economics description above, their revenues are quite low and unstable. This uncertainty of having a job for a long period increases their mental stress and tension. A solution they use is that they tend to see their children as economical help. Thus, they tend to shorten the max possible gap between childhood and adulthood. More than half of these mothers see and behave toward their children as they were adults, even though they are under 18 years of age. They have expectations from their children which they generally fail to fulfill not for their fault.
We have found that a considerable percentage of them consider their children to be adults since the age of 12. They even encourage them to find jobs or engage in any economical-based activity. This situation results in a higher stress pressure than children can support. We should mention that cultural background plays an important role in this inter-generational conflict. Families with Asian ethnic and cultural backgrounds tend to have less conflict. Their cultural value of deep respect and obedience to the elders is one of the reasons for this situation (Bartholomew et al, 2006).
For the most, these single moms have suffered from domestic violence issues prior to their divorce. The use of alcohol from their partner was one of the primary causes of this domestic violence. Almost half of them have had witnessed such violence during their childhood between their parents. Also, 35% of them declared to have used alcohol and drugs as a form of combating stress after the period of divorce. There was still a considerable percentage (19%) that declared to still see alcohol as a form of a 'way out' of the stress and depression they found themselves. Asian and African-American mothers composed the majority of this category. In general, the domestic violence rate for these single mothers in the last two years until divorce or separation was 47%. What is more shocking is that there is a 4% physical abuse rate during pregnancy, a 4.4% rate of physical abuse during the 12 months prior to pregnancy and an 8.7% rate of psychological abuse during pregnancy (Parson, 2009, p. 3).
They also had high reported rates of depression. Studies found that "single mothers are approximately twice as likely to develop major depression as women in the general population" (Parson, 2009, p. 5). The same study mentioned found that in the San Bernardino County, there was a 37% rate of major depression among single mothers and another 12-13% of the rest of this group with a high psychological risk of developing it in the near future (Parson, 2009, p. 5).
Disaster assessment
What should a nurse professional do then in order to avoid 'disaster' for this social group? There are various disaster assessment tools and techniques that help. Planning for an emergency situation is essential. It is the first step of preventing disasters from happening. In order to make adequate planning, we have to consider all the factors mentioned above. We should start with bio-physical ones. The environment plays a determining role in the health of a community. Since these mothers have very low-income potential, they manage to get housing in neighborhoods with high levels of environmental pollution. These are places where the majority of people who live have also low income (Green & Kreuter, 2005). Job opportunities in these areas are scarce and subject to fierce competition. The acknowledging of these environmental conditions "is important in determining the kind of help these persons need" (Green & Kreuter, 2005, p. 16).
For example, a single mom living in a place with poor hygiene conditions has a higher probability of coupling her depressive symptoms with other illnesses. These illnesses will then influence the deepening of her depression. We should work together with other governmental and community actors to try and improve, at least, the hygienic conditions of the environment surrounding this group.
Biological features also play an important role in determining the response in case of need. The importance of drug-using, or alcohol, or any other substance affecting the chemistry of the body is essential. These bio-physical features should be accompanied by the environmental features related data. From these data, we can assess (for example) if they have been affected by some form of chronic illness due to the pollution of the environment. These persons need special attention and cure.
A third factor to be considered here is the psychological features of these persons. Individuals from different ethnic and cultural backgrounds have different reactions toward health issues. For example, part of them believes that some illnesses are 'divine intervention' or the effect of some kind of magic. That comes as a result of their cultural values background. They need a different psychological approach for help than others who do not believe this situation to be true. Deep knowledge of their belief systems and values would help much in psychological assistance. This is why it is important to know their ethnic and cultural backgrounds.
Genogram of the social group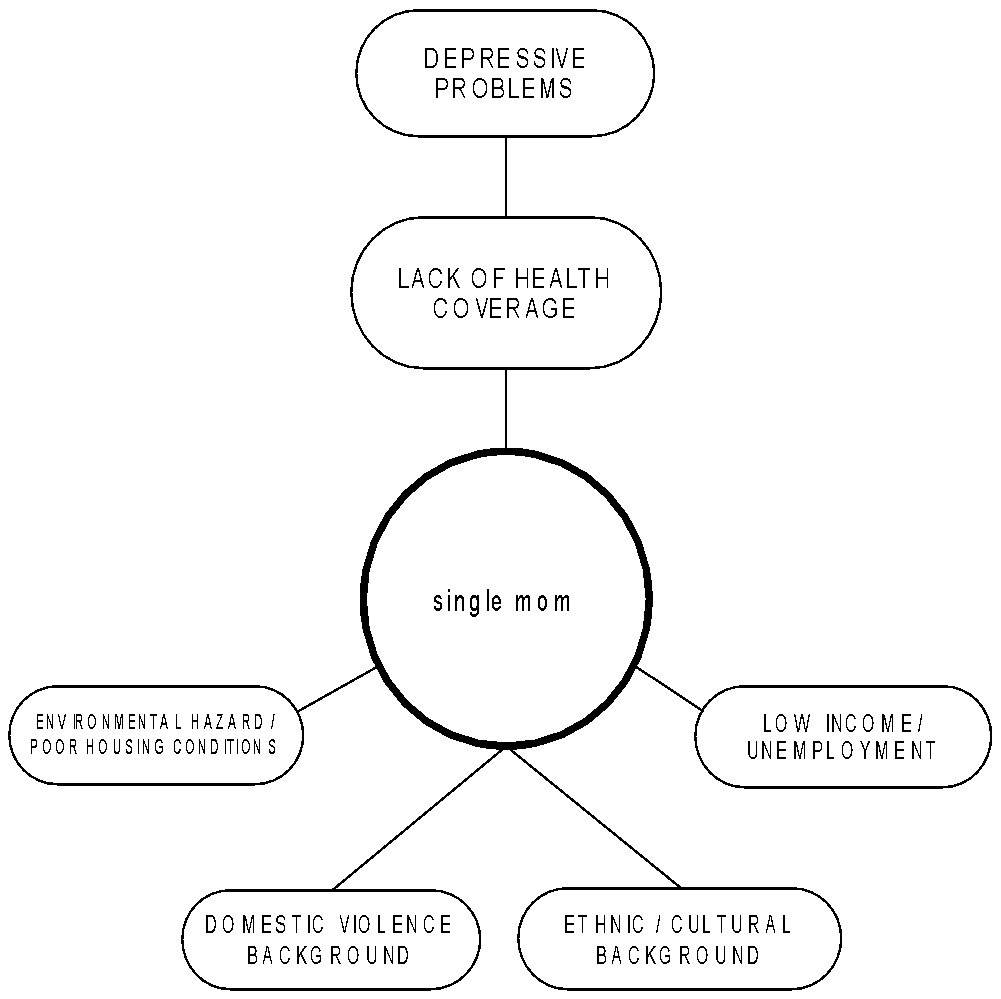 Genogram interpretation
Basically, the genogram is a graphical presentation of what we have already mentioned above. This social group of single mothers has its own common features and differences regarding the background. As for their ethnic background, the majority of this group is composed of single mothers from Hispanic / Latino cultural heritage, followed by Afro-Americans.
They have in common their past domestic violence history. As mentioned above, 37% of these single mothers in the County have been suffering from depression in the past 2 years and 13% of the rest of the group have been at high risk of developing depression. Regarding income, 53% of them have not had stable employment for the past 12 months (Parson, 2009, p. 8). That is an important factor to remember in relation to their mental health in particular or health in general. The differences in the background come from their ethnic and cultural affiliations. These are important factors to keep in mind since they influence (many times even determine) the responses these single mothers give to specific situations. The mix of these two background factors combined with poor housing and environmental conditions along with chronic unemployment has brought as a result lack of health coverage. These factors combined "with time have resulted in depressive problems" (Szreter, 2002, p. 4).
Community diagnosis
There are many internal and external factors influencing the life of individuals and communities. The diagnosis for this social group is that the combination of the above-mentioned factors tends to push these individuals into depressive status. This status forces people to react, which they do in various ways depending on their ethnic and cultural background. It is the duty of the research team to find appropriate ways to help these people "respond to their depression in accordance with their background is the challenge a nurse should have" (Parson, 2009, p. 17).
References
Bartholomew, L. K., Parcel, G. S., Kok, G., & Gottlieb, N. H. (2006).Planning Health Promotion Programs: An intervention mapping approach. San Francisco: Jossey Bass.
Green, LW. and Kreuter, MW. (2005) Health Promotion Planning: An educational and ecological approach, 4th edition. New York, McGraw Hill.
Parson, T. (2009). "Depression common on single mothers receiving welfare", Public Health News Letter. The John Hopkins Bloomberg School of Public Health. Web.
Szreter, S. (2002). Rethinking McKeown: the relationship between public health and social change. American Journal of Public Health, 92, 722-725.