Introduction
Reflection plays an important role in continuous personal and professional development. The practice involves utilizing acquired knowledge rather than reciting what has been learned (Cameron, 2016). Hicks et al. (2019) conquer that the feelings and thoughts emerging from pondering about the situation enable people to generate new concepts. This reflective journal discusses how the module has contributed to my employability and study skills. The report uses Kolb's Reflective Cycle to evaluate learning in communication, research, teamwork, time and self-management, and problem-solving skills, as well as the use of ICTs.
Kolb's Experiential Learning Cycle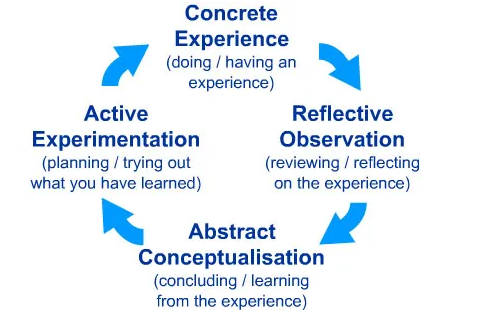 According to Kolb's framework, new experiences provide the impetus to develop and understand new concepts. As illustrated in Figure 1, Kolb's theory asserts that learning occurs through a four-stage process. First, a person encounters a new experience or reinterprets a previous one. Second, the individual observes and reflects on the situation in the second stage (Kolb and Kolb, 2018). Third, the person forms new ideas or modifies a previously learned abstract concept. The last phase entails actively experimenting or applying the ideas to real-life problems (Morris, 2020). The following questions guide the reflection:
What did I do?
What happened?
What did I learn?
What can I do to improve?
Reflection
Communication Skills
This course provided relevant activities and excellent opportunities for learning and strengthening written, visual, and verbal communication skills in both education and business contexts. Cameron (2016) and Shukla and Kumar (2017) opine that effective communication skills are vital for personal and professional success. Throughout this module, we learned and practiced in-demand communication skills and robust strategies for improving them. I grasped how to write emails, speak in diverse contexts such as interviews and groups, give effective presentations, and network online.
Active listening stood out most as I realized that listening to others actively is one of the integral elements of effective communication. I learned that effective listening requires paying attention to verbal and nonverbal cues such as tone, pitch, eye contact, body movements, and gestures. Paying attention to these behaviors helps understand messages and the speaker's feelings (McShane and Von Glinow, 2018). I will strengthen this skill by giving speakers undivided attention, eliminating distractors, providing feedback, deferring judgment, and responding appropriately.
Research Skills
The course provided a strong foundation for scholarly and professional writing by exposing me to advanced research skills. We learned how to formulate research questions, find relevant information sources, and use them properly. This course enabled me to appreciate the importance of preparing adequately and conducting extensive research when undertaking any assignment. I learned that formulating a narrow topic or question makes tasks more manageable. Furthermore, I realized that understanding how to locate relevant sources and use them provides a strong foundation for successful research. This point is espoused by Garg and Passey (2018), who note that effective research skills help build workforce competence. The research skills I honed during this course will enable me for complex academic tasks and job-related assignments in the future.
The Use of ICTs
This course helped me understand how information communication technologies (ICTs) have transformed education. This course exposed me to a wide range of technological applications in education and other fields. We also covered the impact of these innovations on students, learning, and instruction. In agreement with Cottrell (2013), the integration of ITCs improved the classroom experience tremendously. Most importantly, technology turned the traditional dull classroom and subjects into an interactive and fun learning environment by facilitating active participation in-class activities.
Attending this university made me realize how technology enables students to interact with teachers and peers more effectively. I seek to take advantage of various technological applications to collaborate with my classmates and teachers. I intend to utilize these tools to access many resources and conduct research for my school and work assignments in the future. The ability to use a range of digital applications competently is one of the most necessary skills in education (Cameron, 2016). Cottrell (2013) cautions that with vast information available online, it can be difficult to select quality, relevant and reliable sources.
Team Working and Networking
As outlined in the Groups and Teams PowerPoint, we learned how to identify groups and teams, types of groups, factors that influence group formation and development, core team competencies, and groups' structural and behavioral characteristics. What stood out most from this lesson was the contrast between a group and a team. I learned that a group could be any set of people interacting based on shared objectives. In contrast, a team is characterized by members who identify strongly with the group and are more personally responsible for achieving clearly-defined collective outcomes and highly-coordinated interactions (McShane and Von Glinow, 2018). These insights helped me understand why some teams work effectively, and others struggle.
The five-stage model of team development and Belbin's team roles helped me comprehend how a team's structural and behavioral characteristics can foster or impede effective communication and teamwork. Reflecting on this lesson helped me become more emotionally intelligent by building my self-awareness and self-regulation, which are critical to successful team working and networking (Robbins and Judge, 2017). An important takeaway from this lesson is that emotions affect how people understand others and how they are perceived. This observation is supported by Raeissi et al. (2021), who believe that emotions provide tools to understand oneself, others, and the messages they send. Furthermore, I find the core team competencies and the checklist for the leadership of groups essential to my school experience and career. I seek to develop appropriate group structures, solicit appropriate support from my peers, teachers, and management, and obtain coaching and consultation assistance from experts. These strategies will help me build and continuously improve team working and networking skills.
Time and Self-Management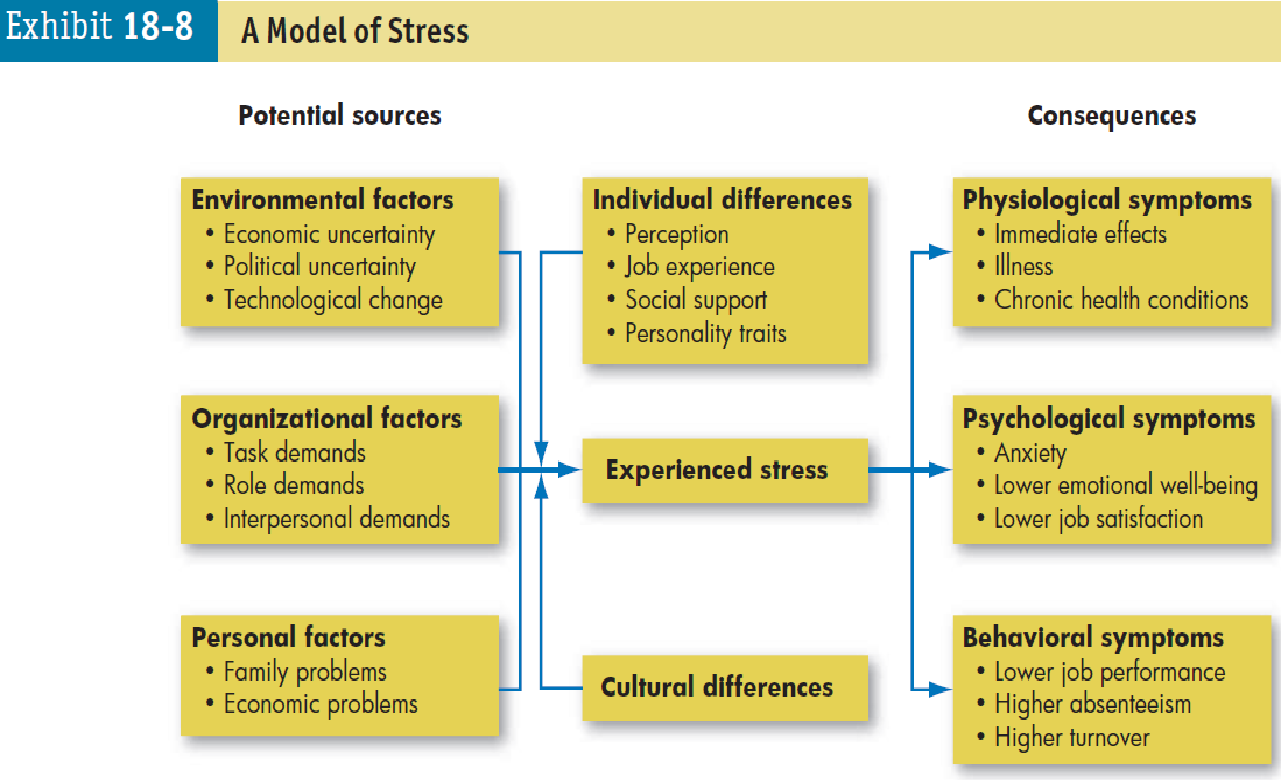 This course provided exceptional opportunities for practicing time and self-management skills. Both time and self-management are important to study and employability skills (Cameron, 2016). This lesson covered aspects of time, the importance of time management, and techniques for utilizing time effectively. Particularly, Robbins and Judge's (2017) model of stress heightened my knowledge and understanding of nature, sources, causes, consequences, and ways of dealing with school and work-related stress (Figure 2). I found this topic very important to my education because I struggle with procrastination, which remains a major problem among many students (Hen and Goroshit, 2020). I was astonished by the hours we waste each day and the consequences, such as missed appointments, unprepared meetings, and poor concentration.
I learned that managing stress and time is critical to success in every task. For example, utilizing time effectively has enabled me to conduct in-depth research, revise what I learn in school at home, prepare for exams adequately, and find some time to be with my friends and enjoy my social life. The course exposed me to vital techniques such as to-do lists, Covey's four-quadrant To Do, and time journals (Figure 3). These techniques have enabled me to set priorities, SMART goals, and effective plans. I seek to employ these tools to help avoid and manage stress, distractions, and procrastination, meet deadlines, and stick to my plans.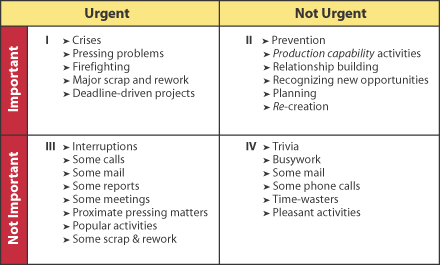 Problem Solving
This course sharpened my ability to solve problems in different contexts. Shukla and Kumar (2017) and McShane and Von Glinow (2018) agree that problem-solving is one of the most in-demand soft skills today. In addition to articulating the importance of problem-solving in education and the workplace, the teacher exhibited tips for improving my problem-solving skills. I learned that problem-solving is a continuous process that requires a flexible, less-structured process or framework. As a result of attending this course, I have developed a six-stage model for problem-solving (Figure 4). I am looking forward to applying this framework to diagnose and solve problems better

Personal Development Plan
This reflective journal exercise encouraged and challenged me to examine my learning and levels of understanding of the various employability and study skills. The self-assessment exercise helped generate nuanced insights into my true comprehension of the course content, theories, and concepts. Furthermore, this activity enabled me to identify gaps in my knowledge. It proved to be an important "wake-up call" by illuminating areas of strength and those that require improvement.
There are several areas that I need to work on to improve my study and employability skills. First, I need to learn to demonstrate empathy to help create an environment where everyone feels safe and encouraged to express ideas, opinions, emotions, and concerns by listening keenly. Second, as a beginner in the practice of academic and professional writing, I acknowledge that I have to learn much and develop my ability to conduct rigorous research. Particularly, I need to learn how to synthesize and critically evaluate existing information to shape and apply the knowledge I gather from group projects, seminar papers, presentations, and other academic and professional sources.
Third, I need to learn how to manage typical distractions associated with using ICTs to take greater advantage of these tools. Fourth, I need to learn more about recognizing and controlling strong feelings such as anger, frustration, and fear to improve my communication in groups and teams. I also have to learn how to accept and respond to feedback from others. Lastly, I am considering learning to apply evidence-based problem-solving models to diagnose possible causes of problems and develop robust action plans to solve them.
Conclusion
Overall, the PDP course provided numerous opportunities for developing and honing the above study and employability skills. One of my strengths is effective communication, particularly active listening. I ensure undivided attention during conversations, provide feedback effectively, defer judgment, and respond to questions appropriately. I have developed the ability to formulate narrow topics or questions and use sources appropriately and leverage diverse technological applications to collaborate with my classmates and teachers. Moreover, I have developed strong team working and networking, time management, and problem-solving skills. However, I need to improve my ability to demonstrate empathy, synthesize and critically evaluate existing information, manage typical distractions associated with using ICTs, recognize and control strong feelings, and apply evidence-based problem-solving models.
Reference List
Cameron, S. (2016) The business student's handbook. 6th edn. Harlow: Pearson Education Limited.
Cottrell, S. (2013) The study skills handbook. 4th edn. London: Palgrave Macmillan Ltd.
de Schepper, J., Sotiriadou, P. and Hill, B. (2020) 'The role of critical reflection as an employability skill in sport management', European Sport Management Quarterly, pp. 1-22. Web.
Garg, A. and Passey, D. (2018) Research skills future in education: building workforce competence: research report 1: Do we cultivate research skills? veracity versus falsity. Lancaster University. Web.
Hen, M. and Goroshit, M. (2020) 'The effects of decisional and academic procrastination on students' feelings toward academic procrastination', Current Psychology, 39(2), pp. 556-563. Web.
Hicks, Q. S. et al. (2019) 'Identifying the influence of factors on the quality of critical reflection: framing, frequency, and feedback', Journal of Applied Learning and Teaching, 2(1), pp. 7-15. Web.
Kolb, A. and Kolb, D. (2018) 'Eight important things to know about the experiential learning cycle', Australian Educational Leader, 40(3), pp. 8-14. Web.
McShane, S. L. and Von Glinow, M. A. (2018) Organisational behaviour. 8th edn. New York, NY: McGraw-Hill Education.
Morris, T. H. (2020) 'Experiential learning–a systematic review and revision of Kolb's model', Interactive Learning Environments, 28(8), pp. 1064-1077. Web.
Raeissi, P. et al. (2021) 'Relationship between communication skills and emotional intelligence among nurses', Nursing Management, 28(1). Web.
Robbins, S. P. and Judge, T. A. (2017) Organizational behavior. 17th edn. Harlow: Pearson Education Limited.
Shukla, A. and Kumar, G. (2017) 'Essential soft skills for employability–A longitudinal study', Advances in Economics and Business Management, 4(6), pp. 362-367. Web.