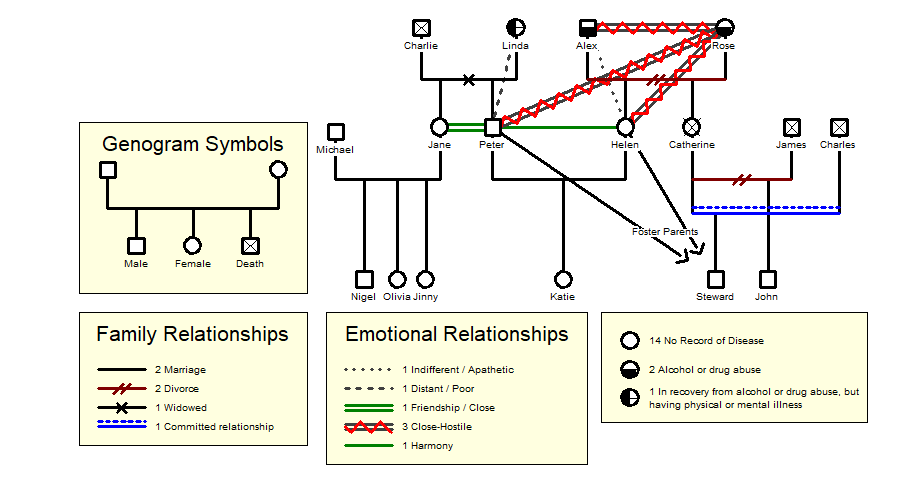 Introduction
Commonly, people present several problems simultaneously, as conditions are often correlated. The root of the majority of the disorders lies in the family situation of the person. Genograms are helpful tools that can help the practitioner to visualize the family situation and assess strengths and barriers to functional behavior. The present paper describes the case of Peter Johnston, a 32-year-old African American who decided to move his immediate family away from the dysfunctional relationships with his wife's parents. The paper provides a detailed look over three generations of Peter's family, identifies the presenting problem, and provides recommendations for addressing these problems.
Cut
15% OFF
your first order
We'll deliver a custom Family Psychology paper tailored to your requirements with a good discount
Use discount
322 specialists online
Field Placement Agency
Our field placement agency is a small organization that serves a community of around 20,000 people. It is a small community center that assesses the needs of diverse populations and helps the clients to qualify for appropriate programs. The agency also provides vocational services, provides information about church communities and health care services in the area. The agency also has a psychiatrist who can apply psychological concepts to create plans for the clients.
Demographic Information
The present paper analyzes the Johnston family, which is a full family of four with a foster child. Peter is a 32-year old African American male with a High School diploma who used to work as a carpenter. He is currently unemployed. Helen is a 31-year-old white female with a High School diploma. She used to work as a waiter; however, she is not working currently, as she spends her time with her 16-months-old daughter, Katie. Steward is a 13-year-old white male studying at the local middle school. He is the child of Helen's sister, Catherine, who died from an overdose. John is Steward's 21-year-old brother, who recently returned from military service. Alex (age 63) and Rose (age 57) are Helen's divorced parents. Linda (age 54) is Peter's widowed mother. Jane (age 35) is Peter's older sister, who is married to Michael (age 40) with three children: Nigel (age 16), Olivia (age 14), and Jinny (age 4). Jane's family are all African Americans.
Family Connections
The family members used to have close connections, which is no longer the case. The family used to live in Rome County, GA, nearby. However, Helen and Peter decided to move from the state due to hostile relationships with Helen's family due to inter-racial marriage. Peter and Helen are very close to each other and live in harmony. They trust each other and make decisions together. They are also very close to Steward, their foster son. Peter has a very close friendship with his older sister, Jane. Rose and Alex have hostile relationships with each other. Even though Helen's relationships with her family are difficult, she still calls her parents several times a week, which often causes distress.
Other Information
The Johnstons were considered lower middle class with $50,000 of family income. However, after moving out of Georgia, Peter was unable to find a job, and the family was forced to spend their savings. Currently, Peter, Helen, Katie, and Steward live together in a rented house in a small community. Even though Rose and Alex are divorced, they live together with John in a small house in Rome County, GA. Rose and Alex have a long history of alcohol misuse, which negatively affects their relationships with the rest of the family. Rose and Alex are retired, while John is currently unemployed after returning from military service. Linda lives together with Jane, Michael, Olivia, Nigel, and Jinny in a big house in Alabama. Jane's family is upper middle class with a family income above $160,000. Linda and her deceased husband, Charlie, also had a history of alcohol misuse, which led to Charlie's kidney failure. After her husband's death, Linda was diagnosed with a light form of schizophrenia. She is currently in recovery.
Steward and John's mother, Catherine, was addicted to heroin and died from an overdose on the same night with Steward's father, Charles. John's father, James, died from an overdose at the age of 22, before Steward was born. Steward and John's parents had multiple problems with the law, including drug possession, public intoxication, and theft. Other family members had no known criminal history.
On-Time Delivery!
Get your customised and 100% plagiarism-free paper done in as little as 3 hours
Let's start
322 specialists online
Presenting Problem
Peter Johnston came to the community center with multiple concerns. First, he was unable to find a suitable job in the new area, as nobody seemed to be hiring carpenters. He does not want to get a part-time job, as it would reduce his ability to visit interviews. Moreover, Peter was unable to find a church community to join. The Johnstons are a religious family, and they had very close relationships with the church community in Georgia. The inability to find a job and lack of spiritual practice led to mild depression and problems with alcohol. Peter is concerned that he will end up as an alcoholic, similar to his and Helen's parents. Thus, he came to the community center to seek vocational services, alcohol misuse, and depression treatment, and help with finding a church community.
Personal Strengths
Articulation of personal strengths is crucial for selecting an effective approach to addressing the client's problems. According to Berg (2016), correct identification of personal strengths can become a basis for strengths-based treatment approaches for alcohol misuse. Fortunately, Peter has multiple strengths that can be used to improve his condition. First, Peter has a close and loving relationship with his wife and children. They have functional relationships, which enable them to make careful decisions. Moreover, Peter is very close to Jane, who can support him both emotionally and financially. Second, even though he is currently unemployed, Peter has a valued profession, which will be of great help in his recovery. Finally, Peter is a religious person, which can be helpful if the Johnstons join a church community.
Recommendations
To assist Peter with the problem, I would select a strength-based approach. The approach sees the client's strengths as resources and focuses on the clients' attention on the outcomes of utilizing the strengths (McCashen, 2017). The strength-based approach allows the client to see him at his best and allows him to act as the primary change agent (McCashen, 2017). I would use the resources of the community center to help Peter find a job and a church community. After that, I would utilize the approach to address the problems with depression and alcohol misuse.
Conclusion
Family can be a source of both strengths and vulnerabilities, which is confirmed with Peter's case described in the present paper. Peter moved away from hostile relationships with his wife's family, which ultimately led to depression and problems with alcohol. However, Peter can use positive relationships with his wife, children, and sister as strengths, upon which he can build to fight the problem. A comprehensive genogram can help a human service provider to identify the strengths and vulnerabilities associated with the family structure to utilize a suitable approach to address presenting problems.
Get a custom-written paper
For only $13.00 $11/page you can get a custom-written academic paper according to your instructions
Let us help you
322 specialists online
References
Berg, J. A. (2016). Strengths-based treatment of substance use disorders: a critical analysis of the literature [Doctoral dissertation]. Pepperdine University. Web.
McCashen, W. (2017). The strengths approach (2nd ed.). St Luke's Innovative Resources