Introduction
When bankers jumped out of their office windows during the Great Depression in the early 1930s in Wall Street, it was as a result of their frustration with the state of the economy, a state that finally led to ,closure of banks due to lack of funds. People understood the sudden stresses they had gone through together with huge pile up of debts that could hardly be paid in a person's lifetime. Over the years, statistical data on suicide deaths by age, sex, profession among other categories have been recorded. According to the Merriam-Webster dictionary, "suicide is the actual act of a sane person intentionally and voluntarily taking his or her own life" (Merriam-Webster, 1995). Fire fighters are part of fast response emergency teams in disaster situations that also include law enforcement agencies and medics. The fire service officers' mandate mainly is to save as many lives as possible together with property. They perform this responsibility, sometimes at a cost of their own lives in line of duty. Although fire fighters worldwide appear comfortable and less stressed with their work, statistical data actually shows that suicide in fire service is likely to be highest relative to all other professions.
Demographics
A story aired by ABC15 Investigators in November 2010 pointed to the fact that four fire fighters had committed suicide within a span of seven months at Phoenix Fire Department. This is not an isolated case; indeed, within a period of eighteen months running from early 2007 to mid 2008, seven firefighters committed suicide in the Chicago Fire Department. As high as the figures look, suicide is but a small fraction of cause of death among firefighters. Others include stress, heart attack, and situations on duty such as getting trapped, jumping off a building or getting struck by an object.
The United States Fire Administration (2009) statistics reveal that 93 firefighters died in line of duty in 2009 alone. Of these, eight were from New York City. The number of volunteers of the 98 deaths was 47, while 38 were career servicemen. In total six fatal incidents occurred in the year 2009, fifteen deadly incidences, and two deaths from structural fires. 38 deaths unrelated to line of duty occurred and on-scene fire cut short the lives of 28 firefighters. Stress/overexertion resulted in the highest number of deaths among firefighters: 52 in total. Forty-one deaths were due to heart attack with the age bracket of 41-60 years being the most affected.
The National Fire Protection Association Journal (2009) indicates that death of firefighters has been constant in the 10-year period between1998 and 2008 (figure 1). The trend is almost similar for both career servicemen and volunteers (figure 2).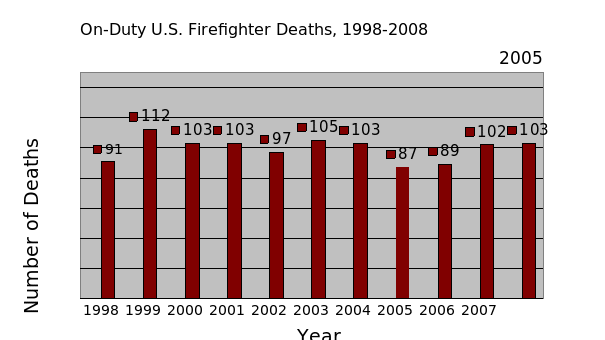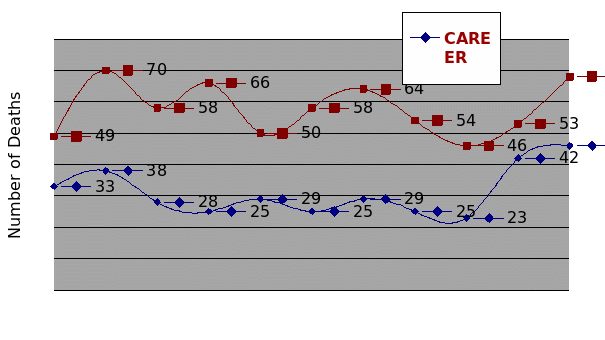 Warnings
Suicide is a tragedy when it occurs and creates not only bewilderment but also uneasiness amongst a population. The stigma associated with suicide prevents people from learning about its possible occurrence and prepare accordingly. Most people live hoping the tragedy does not happen to them and that is just as far as it goes. The stigma has unfortunately spread to fire service units globally and the issue is hardly brought up unless a member of the service has fallen victim. The thought of one of the firefighter's staff members committing a suicide is an idea most would like not to face. This is because the idea is in complete contrasts to the principles by which firefighters live while in line of duty: self-sacrifice, courage, confidence, resilience, and the ability to cope up with challenging situations. Although the topic rarely appears in public literature, and death by suicide amongst fire fighters is mostly unknown, fire services worldwide are in no position to overlook the issue. This is because the nature of their job is such that teamwork is of essence and a tragedy of the nature is mentally and emotionally debilitating for the other grieving team members.
Risks
Risks associated with suicide are both statistical based on demographic and non-demographic data (Murray, 1975). Demographically, white males are at 72% while their female counterparts are at 18% and make up 90% of all deaths by suicide. Among this population, suicide is the second highest cause of death for those aged between 20-34 years, forth for those aged between 35-44 years, and fifth for those between 45-55 years of age. It is a major cause of death for those aged above sixty-five in the same group.
Non-demographic factors are as shown in table 1 below.
70-80%
Alcohol abuse
Mood disorder
Major depression
Bipolar disorder
40-60%
Intoxicated at time of death
Previously had a mood disorder
56%
Use firearm to commit the suicide
Table1
Separation or divorce coupled with other forms of stressors also increases the risk of committing suicide.
Both demographic and non-demographic risk factors coincidentally put fire fighters at a higher likelihood of committing suicide. To begin with, 98% of fire fighters in the United States are white males. The culture of alcohol abuse by firefighters when off-duty is common practice in most institutions providing fire services in addition to access to firearms at home. According to Galen and Gambino (2001), a single suicide incidence creates serious negative impact on six people on average. Within the fire service, this grossly affects teamwork, a core value in their line of duty.
Potential signs of suicide
Although people generally hold the view that suicide deaths occur without any warning, there are actually several behavioral signs exhibited by individuals who take their own lives prior to the tragedy. These include relapsing condition of drug or alcohol abuse, work difficulties, sudden negligence, change of work habits, getting rid of possessions, bringing significant relationships to an end, being overly critical of oneself, taking immense risks that are unnecessary and beyond the set safety standards, making funeral arrangements of oneself, self imposed isolation, feeling hopeless, depression, and acquiring means of committing suicide.
Support and outreach programs
The first step in tackling of the situation is for officers in commanding positions of fire stations to be aware of available resources for fighting the habit. The basic principles of averting a suicide is to be able to identify likely victims and then provide them with the necessary help and support required. Programs to reduce stigma and encourage individuals at risk to come forward and seek help should be promoted within the close knit community of firefighters. As further explained by Murray (1975), the basic steps of these programs involve questioning the suicidal signs exhibited by an individual, persuading them to seek help, and referring them to mental health professional. As most service personnel fear to come forward and express such worries for fear of being stigmatized, regular training of commanding officers would help curb such fears. The message sent would be that searching for help in such difficulties is neither a weakness nor failure, and that the service is concerned about the well being of its personnel. Basic suicide prevention programs can also be taught to fire departmental staff as a core unit by mental health professionals as part of class work during training. Incidental stress debriefings should be conducted in a manner that is psychologically relieving to those who went through the ordeal.
Conclusion
Suicide is an avoidable cause of death that leads to loss of staff and affects units' effectiveness in performing their duty. Warnings signs that an individual may be at risk of committing suicide like mental health problems interfere with the person's efficiency and should be effectively acted upon. Positive spirituality, good attitude, and excellent skills for solving problems helps individuals to have good stress control and lower chances of committing a suicide. Improving awareness of personnel on suicidal issues, timely provision of professional help to staff in need of it, assisting the affected families, and reporting of suicide concern behaviors are core in the fight against suicide among fire fighters. In a nutshell, prevention resources should be availed to all parties concerned and made use of to effectively win the battle.
Reference List
Galen, R. & Gambino, S. (2001). Beyond normality: The predictive value and efficiency of medical diagnoses. Bowie, MD: Charles Press.
Merriam-Webster, Inc. (1995). Merriam-Webster's dictionary of English. Springfield, MA: Merriam-Webster, Inc.
Murray, H. (1975). Explorations in personality. New York City: Oxford University Press.
NFPA (National Fire Protection Association). (2009). On-Duty US Firefighter Deaths. NFPA Magazine, July-August 2009, p. 60-67.
United States Fire Administration (USFA). (2009). Provisional report for 2009 and statistical reports. Washington, DC: USFA.